Despite a growing number of women entering STEM fields, only around 15% of today's engineers are women. How can we provide young women with the resources they need to succeed in this rewarding career path?
We sat down with two Marion women in engineering, Colleen Cordova, President and CEO for STAR Turbine Inc., and Valentina Martin, Assembly/Paint Engineer at Whirlpool Corporation, to discuss their experience and advice for women joining the engineering field.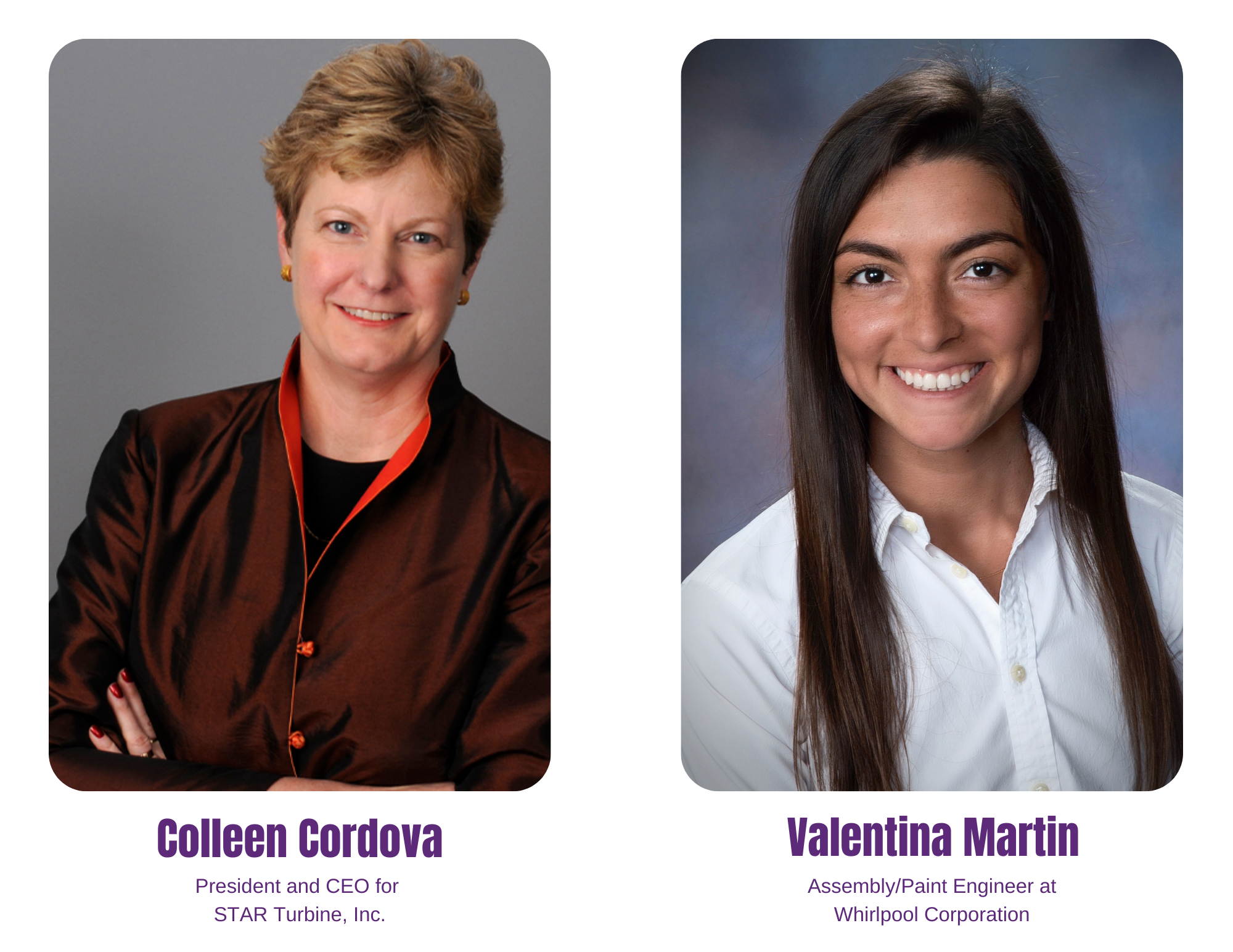 What sparked your interest in engineering?
Colleen Cordova:
"In eighth grade, I grew crystals at my summer camp and I decided right then and there I wanted to work in STEM! Science and, particularly, engineering allow one to make a difference in the world.
I was inspired by engineering courses I took in college as a chemistry major and by my manufacturing internships at Virginia Chemicals and Allied Chemical (Honeywell). I decided to apply to VA Tech's graduate program in Chemical Engineering and never looked back."
Valentina Martin:
"My dream job was and still is, to work with those suffering from Alzheimer's, Parkinson's, or other neurodegenerative diseases. I majored in biomedical engineering in college and was amazed to learn how machines, prosthetics, and other biomaterial devices are made. My passion for helping others through engineering was born!"
What advice do you have for women interested in engineering?
Colleen Cordova:
"Don't be afraid of the math and science requirements, there are plenty of resources including tutors to ensure you succeed. Take the courses. Engineering is one of the most stable and rewarding jobs that exist. Engineering degrees are so versatile and can lead to so many interesting careers including: business, marketing, sales, robotics, construction, design, leadership, and of course, any job in manufacturing.
I also recommend applying for internships or summer jobs in manufacturing. I started out shredding paper and filing but, through showing an interest, I was quickly assigned more challenging and fun jobs."
Valentina Martin:
"Try working in a manufacturing facility, even if it means working as a technician. I also recommend learning programming such as AutoCAD, SolidWorks, Microsoft, or Google Suite.
Get involved in the engineering community. I suggest being a part of the Biomedical Engineering Society or the Society of Women Engineers. Talk to your professors about job shadowing opportunities and look into developmental programs."
What challenges do women face in the engineering field?
Colleen Cordova:
"In order to be successful, I had to learn fast how to be tough and to work harder to prove that I was equal to my male counterparts. Women engineers are still not as prevalent as men, so I often stood out. However, being remembered also helped accelerate my career and academia opportunities.
I suggest having mentors, both male and female, to help guide you. Don't be afraid to ask for help when you need it as others want you to succeed."
Valentina Martin:
"I had to build my communication skills quickly in order to have a loud voice and speak up with my non-female counterparts. It can be lonely being a woman engineer, as engineering is still more of a male-dominated field. Even so, I have no regrets about pursuing engineering. Women are the minority, but I feel like I've had such great opportunities with both my internships and my full-time job."
Are there any resources in Marion that you've found useful for your career?
Colleen Cordova:
"Marion CAN DO! has been a great resource for showing us potential new sites, helping us apply for state grants, and introducing my organization to local leadership and other civic organizations in Marion. We're also thrilled with the Marion CAN DO! Training programs for STAR employees that are worth up to $180,000 a year!
I've also seen countless team members succeed with training programs through Marion Tech such as the Electrical Engineering and Smart Manufacturing programs. Marion is the perfect place to jump-start your career in engineering."
Valentina Martin:
"I was born in Buenos Aires, Argentina, and moved with my family to Marion, Ohio, back in 2006. With my acceptance into the Manufacturing Leadership Development Program for Whirlpool, I got the chance to select the Marion facility as my preferred location."
Marion CAN DO! is dedicated to encouraging, assisting and providing opportunities for women engineering students in order to develop the skills they need. Thus allowing them to achieve their fullest potential as engineers and leaders in the Marion community.