MARION, Ohio, Feb. 20, 2018 — Mid-Ohio Energy Cooperative has invested $10,000 in Marion Can Do — the local economic development agency serving Marion, Ohio — to support the organization's marketing and communications efforts.
The investment will help Marion Can Do implement strategic communications initiatives designed to elevate the area's reputation among site selectors, investors, business and community leaders, and other economic development organizations, while promoting the area to companies looking to expand or relocate.
"Mid-Ohio Energy's core values include giving back to the community and working toward their sustainable development," said John Metcalf, president and CEO of Mid-Ohio Energy. "We're confident that this donation will benefit the entire Marion community because we believe Marion Can Do's strategic plan will help recruit great employers."
Last year, Marion Can Do supported the creation of 400 new jobs and exceeded its goal of $50 million in capital investment by 600 percent. The city also officially adopted the title of "America's Workforce Development Capital" because of its top-rated, nationally-recognized education and job-readiness resources, including RAMTEC, Marion Technical College and the Tri-River's Career Center.
"Mid-Ohio Energy isn't a company that stands on the sidelines and waits for things to happen — they get in the game," said Gus Comstock, director of Marion Can Do. "Investments like this ensure we have the resources to continue attracting new businesses, while creating and maintaining essential job training infrastructure."
To learn more about Marion Can Do's initiatives, visit marioncando.com or follow them on Facebook and Twitter.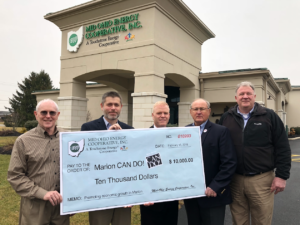 From left to right: Denny Ferguson, executive assistant at Marion Can Do; Ryan McCall, president of Marion Can Do; John Metcalf, president and CEO of Mid-Ohio Energy; Ken Stiverson, Marion County commissioner; and Gus Comstock, director of Marion Can Do.